Exploring Homeschooling Growth Course
From

11:45 AM

to 12:45 PM
---
Register
2023-06-04 11:45
2023-06-04 12:45
America/New_York
Exploring Homeschooling Growth Course
Curious if home education could be a good fit for your family? Have you ever considered taking charge of your child's education, but found yourself with too many unanswered questions? Attend our 1 hour, 1 week-only growth course on June 4th at 11:45 AM. In this class, we will have a panel of experienced, long-term homeschooling parents of ACC ready to share what homeschooling looks like in their unique family and answer any questions you may have. Register at arundelcc.org/growth
[email protected]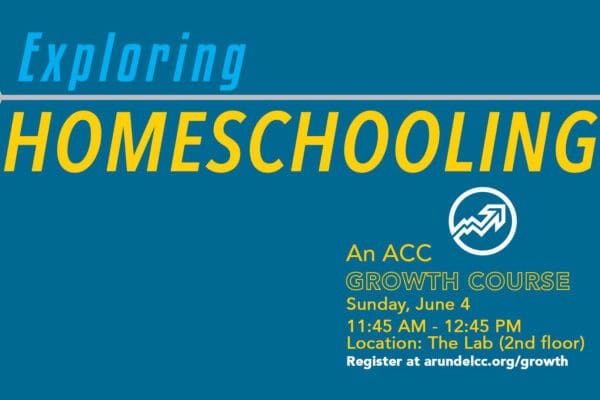 Curious if home education could be a good fit for your family? Have you ever considered taking charge of your child's education, but found yourself with too many unanswered questions?
Attend our 1 hour, 1 week-only growth course on June 4th at 11:45 AM.
In this class, we will have a panel of experienced, long-term homeschooling parents of ACC ready to share what homeschooling looks like in their unique family and answer any questions you may have.
Register at arundelcc.org/growth