Go! Day June 2023
From

9:30 AM

to 1:00 PM
---
Register
2023-06-17 09:30
2023-06-17 13:00
America/New_York
Go! Day June 2023
Join ACC on Saturday, June 17th as we go out into the community & show Gods love in practical ways. This is an opportunity for the church to come together & serve Glen Burnie. We will hand out free items such as water bottles, host a free car wash in our parking lot, pick up trash and beautify our community, as well as join in a round of bingo with seniors. Come to ACC at 9:30 AM to participate in our ACC Outreach service projects and come back noon to enjoy some pizza and fellowship together! All ages are welcome and encouraged! Register at arundelcc.org/events
710 Aquahart Road, Glen Burnie, MD
[email protected]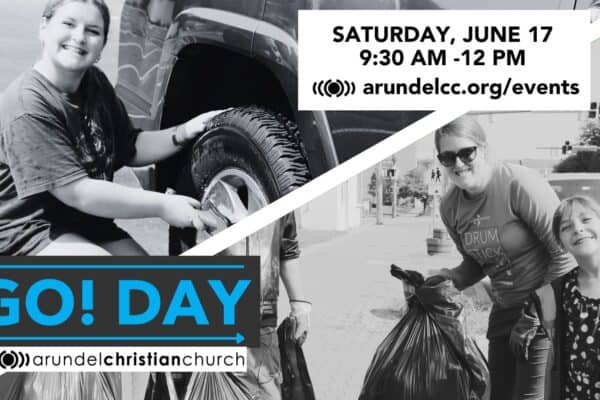 Join ACC on Saturday, June 17th as we go out into the community & show Gods love in practical ways. This is an opportunity for the church to come together & serve Glen Burnie. We will hand out free items such as water bottles, host a free car wash in our parking lot, pick up trash and beautify our community, as well as join in a round of bingo with seniors.
Come to ACC at 9:30 AM to participate in our ACC Outreach service projects and come back noon to enjoy some pizza and fellowship together!
All ages are welcome and encouraged!
Register at arundelcc.org/events