Kids' Baptism Class
From

11:30 AM

to 12:30 PM
---
Register
2023-09-29 11:30
2023-09-29 12:30
America/New_York
Kids' Baptism Class
Has your child begun asking questions and showing interest in baptism? If so, this is the class for them! This 2-part class is on March 5th & 12th at 11:30 AM. Our class goes through the basics of baptism in a simple, hands-on way that helps your kids fully understand their commitment to Christ before celebrating their inward decision through baptism. If you're interested in participating let us know at: arundelcc.org/kidsbaptismclass
[email protected]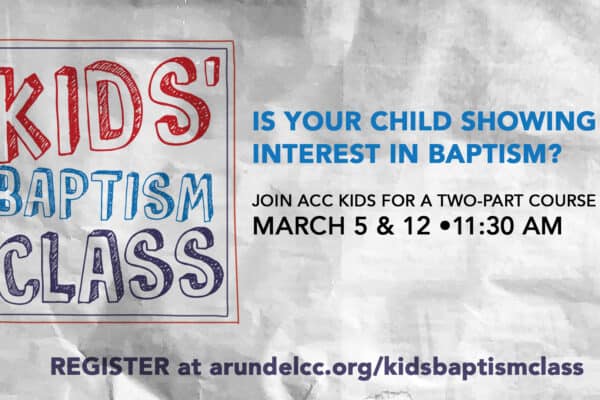 Has your child begun asking questions and showing interest in baptism?
If so, this is the class for them! This 2-part class is on March 5th & 12th at 11:30 AM.
Our class goes through the basics of baptism in a simple, hands-on way that helps your kids fully understand their commitment to Christ before celebrating their inward decision through baptism.
If you're interested in participating let us know at: arundelcc.org/kidsbaptismclass