Laugh In Person with Shawn Reynolds
From

6:00 PM

to 8:30 PM
---
Register
2023-09-29 18:00
2023-09-29 20:30
America/New_York
Laugh In Person with Shawn Reynolds
Join us for a night of laughs for the whole family! Shawn Reynolds is ready to bring the funny to you this Sunday June 12th starting at 6 PM! Doors open at 5PM for those with early admission tickets. You don't want to miss this fun family event. Tickets available at: https://www.etix.com/ticket/p/3180324/laugh-in-person-with-shawn-reynolds-baltimore-arundel-christian-church Use promo code: LAUGH to get a discount on your admission! Harvest Resources and BrightFM will also be having a Pantry Project at ACC to help stock local food pantries and provide for those in need. Consider bringing a donation of the items most needed: Pancake Mixes • Muffin Mixes • Pasta Sides • Peanut Butter • Potato Sides • Mashed Potatoes • Rice Sides • Cake Mixes • Brownie Mixes • Frosting • Peanut Butter • Canned Chicken Soup • Snacks (cookies, crackers) • Canned Meats (Spam, corned beef, ham, salmon) • Pancake Syrup • Granola Bars • Canned Fruit • Canned Corn • Canned Meals (Chef Boyardee, Stews, Chili) • Tomato Products (especially diced tomatoes, tomato paste) •Pet Supplies • Personal Bathroom Essentials • Crackers • Cookies • Laundry Detergent
[email protected]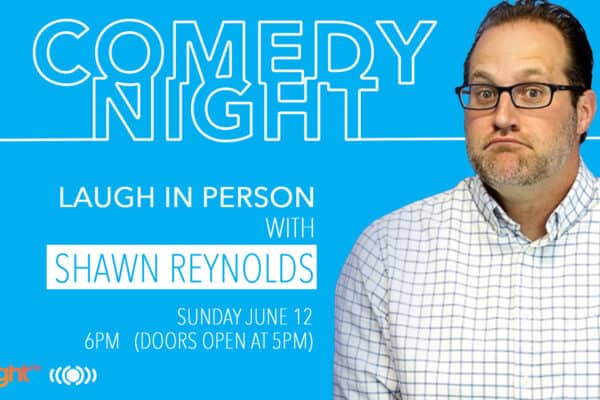 Join us for a night of laughs for the whole family! Shawn Reynolds is ready to bring the funny to you this Sunday June 12th starting at 6 PM! Doors open at 5PM for those with early admission tickets. You don't want to miss this fun family event.
Tickets available at: https://www.etix.com/ticket/p/3180324/laugh-in-person-with-shawn-reynolds-baltimore-arundel-christian-church
Use promo code: LAUGH to get a discount on your admission!
Harvest Resources and BrightFM will also be having a Pantry Project at ACC to help stock local food pantries and provide for those in need. Consider bringing a donation of the items most needed:
Pancake Mixes • Muffin Mixes • Pasta Sides • Peanut Butter • Potato Sides • Mashed Potatoes • Rice Sides • Cake Mixes • Brownie Mixes • Frosting • Peanut Butter • Canned Chicken Soup • Snacks (cookies, crackers) • Canned Meats (Spam, corned beef, ham, salmon) • Pancake Syrup • Granola Bars • Canned Fruit • Canned Corn • Canned Meals (Chef Boyardee, Stews, Chili) • Tomato Products (especially diced tomatoes, tomato paste) •Pet Supplies • Personal Bathroom Essentials • Crackers • Cookies • Laundry Detergent